What is anxiety?
Unlike fear that can be substantiated with something concrete as the cause, anxiety, on the other hand, does have a vague reason as the cause. Most times it is a result of something inner in the mind that cannot be seen. It could be a thought of something bad happening to you, anxious that you will lose your mind or worry about what tomorrow may bring.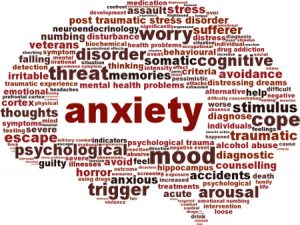 Anxiety is a combination of psychological, behavioral and physiological reactions that all affects the whole being. This includes body response such as shaky hands, increased heartbeat rate, tensed muscle and dry mouth. It also affects the person's behavior such as composure and expression. The psychological effect causes apprehension.
Anxiety can deteriorate to severe level if not properly attended to. A mere uneasiness can deteriorate to heart palpitation and even mind disorientation.
Homeopathy: A safe cure to Anxiety
Homeopathy is a holistic treatment for anxiety in which a remedy is selected for an individual based on the symptom shown. Homeopathy treats not only the symptoms of anxiety but also the root and what makes the patient susceptible. Based on the cause, sensation, and other noticeable signs of anxiety in a patient, particular Homeopathic medicine is selected for treatment of anxiety. This can be properly done by a qualified and experienced Homeopath.
There are many remedies for treating anxiety as enumerated below.
Argentum Nitricum
This remedy is administered to patients with symptoms such as visible apprehension, nervousness shows in fast walking, always hurried and an affinity for sweet things. Sometimes they can also experience strange compulsions such as jumping from a height, fearful of crossing street and other terrific things. They are better in a less crowded environment with cool and fresh air. These are well treated using this remedy.
Aconite Napellus
Aconite is an excellent remedy for the sudden and intense panic that could be as a result of accident, horrific experience or natural disaster which live the victim agitated and restless. Nervous agitation is responsible for this. The symptom such as dry mouth and skin, faster heartbeat and thirst are noticeable. Music is irritating to such a person because it makes such sad. The person is both mentally and physically restless. A crowd is also upsetting to such.
Arsenicum album
The major symptom of this class of anxiety is about security and safety. This patient gets anxious when night-time is approaching or when thinking about the future as regards money and health. In a bid to get through, this patient tends to be a perfectionist and the same time selfish in the quest for security as shown when they sought other people's company but tainted with controlling tendency. This category of patients can be treated with Arsenicum album.
Calcarea Carbonica
Calcarea essentially used for people anxious about losing control and of change. These people tend to be adamant about maintaining routine in a bid not to lose control. Such sweat easily over little exertion even during sleep and fears the dark, spider and dogs. They struggle with thoughts as though they are going to lose their mind.
Kali Arsenicosum
This remedy is suitable for patient anxious over heart disease or heart-related problems. This makes such to place a hand over the heart when sleeping and they struggle to sleep.
Kali Phosphoricum
This remedy is for anxiety that is characterized by an overwhelming feeling. They get easily frightened and very sensitive. Such get easily exhausted and irritable with some occasional overexcitement. They abhor apprehensive thoughts of something negative will happen to them.
Gelsemium Sempervirens
This remedy applies to those that suffer from weak muscles as a result of anxiety. This anxiety makes their muscle tremble when exerted as visibly noticed in shaking knees, legs and hands leaving them helpless and paralyzed.
Lycopodium Clavatum
The set of patients that need this is those that suffer from anticipation anxiety that can also be known as stage fright. Such also lack self-confidence and get to over talk in a bid to cover up this problem. They also crave for sweet things, and they are also found bragging and boasting.
Phosphorus
Those in need of phosphorus are patients that are overly sensitive and fears staying alone. They make up by staying friendly in a bid to always be in a company of others. They fear darkness, thunderstorm and are sensitive to sounds and odors, having strange imaginations. They crave for sweet things and spicy food.
Homeopathic remedies are not limited to the above-listed ones. Consulting a qualified Homeopath makes you get the appropriated individualized treatment that suits your condition.
Above we listed just a few homeopathic remedies that are popular in the treatment of anxiety. The goal of the homeopathic physician is to find the most specific medicine which would cover not only a symptom of anxiety in the patient's condition but also other symptoms the person is reporting during the initial homeopathic evaluation. Also, understanding of the history of the ailment development helps homeopath to choose the proper treatment.
Doctor Tsan posted on Academia.edu the case of anxiety, treated with homeopathy in his practice.
"I remember the patient, eight years old boy who suffered from anxiety attacks when he left in a dark room, alone at bedtime, especially during stormy weather. Based on the descriptions of homeopathic remedies he was a classical type of Phosphorus (sensitive and fears staying alone, fear darkness, thunderstorm and are sensitive to sounds and odors, having strange imaginations). However, patient's mother told me that a few months ago the kid had an episode of severe furunculosis (profound inflammation of the hair follicle triggering an abscess development with an accretion of excretion and necrotic flesh). His father, a medical doctor, administered a strong antibiotic to kill the infection that caused the illness and after 8-10 days, skin eruptions diminished. From a western point of view, the treatment was correct and the desired result has been achieved. Nobody ever after that linked anxiety symptoms to the furunculosis episode in the past. There is, however, a homeopathic medicine Kali Bichromicum that covers symptoms of skin boils and emotional signs, like fear, irritability, loathing, despair, discouraged, confusion, vanishing of thoughts, etc. I didn't have any doubts that these two problems are related and made the prescription accordingly. My patient took Kali Bichromicum for a month, symptoms of anxiety gone but the skin boils suddenly re-appeared exactly the way they were before. His parents were confused because from one hand symptoms for which they asked me to treat their son completely gone, however, I told them not to do anything western for skin symptoms flair up. Even at that time they didn't see any connection and didn't understand my "alternative" logic. Patient's father, the physician, told me that he wants to give his son antibiotic and homeopathic Kali Bichromicum concurrently because antibiotic will kill bacteria and Kali will fix emotional disturbance. I explained to him that the disease is developing backward and this is the best progress we can expect. Antibiotics in this case, not only useless at this point, but also would lead back to the anxiety attacks. I asked him for one week and on third-forth days all furuncles gone. Since that time the boy had neither boils nor anxiety again."
Homeopathic treatment for anxiety at Philadelphia Homeopathic Clinic
At the Philadelphia Homeopathic Clinic, Dr. Tsan and associates pay attention to details and treat the patient and not the current symptoms. That's why, in the majority of cases, our patients return back to normal life cured and healthy.
Use the button below to schedule an appointment for a homeopathic consultation with Dr. Tsan.
bookfresh_booknow_button